In this tutorial, we're looking at content creation, editing and publishing using WordPress, so to follow along, you need full access to your WordPress site.
The Admin Panel
The WordPress admin panel is the heart and soul of your WordPress website. This is where you configure your site settings, create and publish content, customize the appearence of your site and more.
I want to give you a quick overview of the admin panel. First off, once you're logged in to your WordPress site you can toggle between the admin panel and the front page by clicking on the site title up here in the WordPress toolbar.
When you're on the front end and click the site title, you go to the admin panel. From the admin panel, clicking on the site title brings you back to the front page. You can also get to the admin panel by going to impactmentalhealthservices.com/wp-admin. Note you're just typing wp-admin at the end of your domain name. And that'll bring you to the admin panel if you're already logged in. If you're not logged in it'll bring you to the log in page and from there, once you log in, you'll go straight to the admin panel. The admin panel is divided into three main sections. The WordPress toolbar at the top, the admin navigation menu on the left and the admin panels on the right.
Select an item from the admin navigation menu and the panel opens to that panel area. Many of these panels have optional features you can toggle on and off or configure. These are available under the screen options tab on the top right hand corner. You can also move the panels you see here around. So if you don't like the current configuration you can change it to fit with your needs.
The WordPress toolbar at the top of your screen is your shortcut to switching between the front end and the admin panel.
If you are on a single post for example, you can also jump directly to the post editor for that post. So here you see I'm in a post called How to be Human and I have a new option up here on the toolbar that says edit post, click on it. I now jump directly to the editor for How to be Human. I can make my edits and I click Update or I can click View Post to jump directly back to the front end. So this enables you to quickly switch context between viewing what you've just created and making edits and you can jump back and forth between all sorts of different views.
So posts, pages, archives or anything else that's editable. In this course we'll spend most of our time in the Post and Page editors but don't let that stop you from checking out all the other options available from the admin navigation menu. And like I said, there's a whole course covering everything you see here in detail for when you're ready.
How to create new Pages and Post
What are Pages in WordPress?
Pages are static "one-off" type content such as your about page, privacy policy, contact page, etc. While the WordPress database stores the published date of the page, pages are timeless entities.
For example, your about page is not suppose to expire. Sure you can go back and make updates to it, but chances are you will not have about page 2020, about page 2021 etc. Because there is no time and date tied to pages, they are not included in your RSS feeds by default.
You can add and edit pages in WordPress from 'Pages' menu in your dashboard. Here is how Add New Page screen looks like: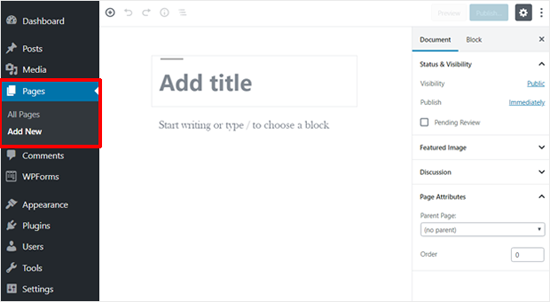 Pages are not meant to be social in most cases and do not include social sharing buttons. For example, you probably don't want others to tweet your privacy policy page in most cases.
Similarly, pages also don't include comments. You don't want users to comment on your contact page or your legal disclaimers page. There is an option to enable comments, however, it is disabled by default for your WordPress pages.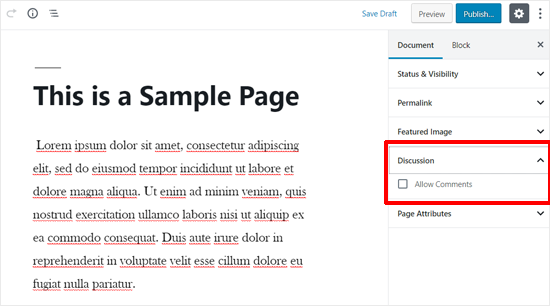 Unlike posts, pages are hierarchical by nature. For example, you can have subpages or child pages within a page. You can easily turn a page into subpage by choosing a parent page from Page Attributes when editing a page.
This feature allows you to organize your pages together, and even assign a custom template to them.
In most themes, post and pages look the same. But when you are using your page to create a landing page or a gallery page, then the custom page templates feature comes in very handy.
WordPress Pages vs. Posts (Key Differences)
These are the main differences between posts vs pages in WordPress.
Posts are timely vs. Pages are timeless.
Posts are social vs. Pages are NOT.
Posts are organized using categories and tags vs. Pages are hierarchical and can be organized as child and parent pages.
Posts are included in RSS feed vs. Pages are not.
Posts have author and published date vs Pages do not.
The differences I listed above may have exceptions. You can use plugins to extend the functionality of both content types.
Despite these differences, there are some similarities between pages and posts in WordPress.
First, they are both used for publishing content. You can add text, images, forms, etc. to both posts and pages. There is featured image meta-field in both pages and posts.
You can build a website without ever using posts or the blogging features of WordPress. It's good for your business website to build a separate blog section for your news, announcements, and other articles.
Adding a New User on Your WordPress Website
To add a new user on your WordPress site, simply click on Users » Add New and fill out the form.
Adding a new user in WordPress
First you need to provide a username, use something that is easy to remember for the user you are adding. They will need to remember the username to login.
Next you need to enter the user's email address. Double check the email address, as users will need this in order to reset their passwords, or to receive email notifications.
You can enter first name, last name, and website information. However, these fields are optional and users can edit their profiles to fill in those fields.
The next item in the form is to choose a password. You must use a strong password. We recommend using an online strong password generator for this purpose. Below the password fields, you will see a checkbox which you can check to send the password to the user via email. The users will receive their login information on the email address you entered above.
The last option on the page is to choose user role. Each user role comes with different set of capabilities. Subscriber is the least powerful role, and administrator or network admin is the most powerful role. You need to choose a role depending on what tasks a user will be performing on your website.
Understanding User Roles in WordPress
WordPress comes with these default user roles:
Administrator
Editor
Contributor
Author
Subscriber
An administrator can perform all tasks on your WordPress site. It is highly recommended that you do not assign this role to any user unless you trust them. With administrator user role, a user can install plugins, change themes, delete content, media, and other users including other administrators.
If you just want to allow a user to add posts, and edit only their own posts, then you can use the contributor user role. Users with the contributor user role can write posts but cannot publish them. They cannot edit other user's posts and cannot access other admin screens like plugins, themes, settings, tools, etc.
On the other hand, if you want to allow someone to not just add posts but also publish them, then author user role is perfect for that situation. Users with the author user role can add, edit, and publish their own posts.
To give a user complete editorial control on your website, you can give them editor user role. Users with the editor user role, can add, edit, publish, delete their own posts as well as posts by all other users as well. They cannot access website settings, plugins, themes, etc.
A subscriber can just maintain their own profile on your site and cannot write posts. It is usually used on sites where users are required to sign in to submit comments or download content.
Managing Users in WordPress
As an administrator, you can add and remove users from your WordPress site at any time. You can also edit a user's profile at any time and change any information including passwords. Simply click on the Users and edit or delete a user anytime you want.
You can add or remove capabilities to user roles or even create custom user roles. You can add additional fields to user profiles, add an author bio box, display an authors list, and so on.